Juneteenth Commemoration
June 19, 2021
12:00 to 2 p.m.
Online via Zoom Webinar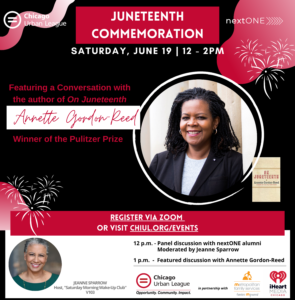 On Saturday, June 19, the Chicago Urban League will welcome the 2021-22 cohort of its recently relaunched nextONE program, an accelerated MBA-level training initiative designed to help Black small business owners grow their enterprises. The League chose to launch the new class on Juneteenth, a day when many Black Americans celebrate the end of slavery in the United States, as a nod to a key goal of nextONE: advancing economic equity through business ownership.
The nextONE Juneteenth Commemoration will be open to the public via Zoom Webinar. It will consist of two components:
A Panel Discussion with nextONE alumni:

MODERATOR:Jeanne Sparrow, Host, Saturday Morning Wake Up Show, V103

CONFIRMED PANELISTS:

Jimmy Akintonde, President & CEO, Ujamaa Construction

Amy S. Hilliard, Founder & Principal, The Hilliard Group and The ComfortCake Company

Kamau Murray, Founder & CEO, XS Tennis Foundation

A Featured Conversation with Annette Gordon-Reed, Pulitzer Prize-winning author of the book On Juneteenth.
Attendees via Zoom will have the opportunity to pose questions to Annette Gordon-Reed.